Reviews
« back to overview

Rockaway Photographer Sandra Gottlieb Crystallizes Fierce Waters
"October Waves, 2013"

In Tiny Moments, Exhibit Captures Storm Season
by Cristina Schreil, Queens Chronicle, September 10, 2015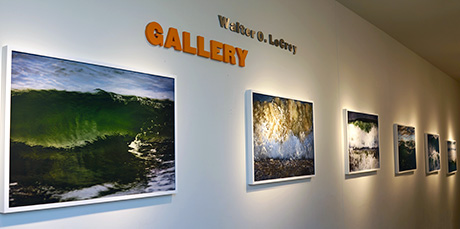 It's unexpected that the first sense awakened by photography is taste.

Rockaway Beach resident and art photographer Sandra Gottlieb's work may dredge up sense memories of floating free in the sea, with salty swells assaulting your personal space, filling up your eyes with bubbles and your mouth with flecks of sand and frothy brine.

In photos on display at the Walter O. LeCroy Gallery at the New York Hall of Science, close-up and delectably crisp shots of the Atlantic meeting the shore may stimulate the senses in a surreal — yet somehow, natural — way.

The series, the sixth Gottlieb has done on Rockaway's waves since 1996, is not a leisurely survey of the water from the safety of the beach; this is a full-throated trespassing into a mightier, relentless and forebodingly green and cobalt sea, one that Poseidon himself must be churning from icy fathoms below.

"October Waves is about the turbulence in the water," Gottlieb said, clarifying that she sought to document each day of a month in the 2013 hurricane season at sunset, snapping hundreds of photos until seizing the right moment.

The project took place one year after Hurricane Sandy, when she and her husband watched debris surge past their beach home, but Gottlieb said the project didn't directly influence this series.

"This is a year later. So, this whole situation was different," she said. "October Waves 2013" is Gottlieb's first showing in Queens.

"The entire month was filled with active, active sea, coming and going," she said.

Compared to her other series, this collection of nearly 30 photos has a tight focus on waves. "Summer," from 2009, for instance, is composed of vertical photographs and features vibrant color and sand. But the 2013 photos focus on wave forms, capturing moments of ebb and flow through highlighting little splashes, lacy curls of white, cappuccino-like foam.

"This one was about expressing how every wave is different," Gottlieb said.

There is surprising diversity here; some waves rushing back to sea glimmer emerald green with others becoming bigger and appearing more blue. Others only show tan and white hues.

Gottlieb shot with a 300-mm fixed lens. The photos are big, save for five around the corner in a second hallway.

She added that it's all about the movement of the water, the "essence of the wave" and the emotions that seep from gazing upon dozens of crests and falls one after another. As Gottlieb spoke, she likened the movements to time capsules or metaphors for life.

"The back is there but it's not fully in focus yet," she said of the 23rd photograph. "This one is pulling forward and that will soon be the present. So, it is about the passage of time."

Gottlieb stood at the same spot each day, with the sun always over her right shoulder. She said the diffused sunset light brought out softness. She also doesn't crop photos, and shoots with a goal to keep corners filled with interesting details. She said she had to dance with each swell of the rocking ocean — fitting, as she used to be a dancer. In her first series, she shot the water from the third floor of her beach house and physically got closer over the years. She shot this series in high boots, with her husband sometimes surveying her from nearby for safety.

The context of the New York Hall of Science may seem a bit peculiar, especially for visitors who are used to the inherent educational quality of almost every nook and cranny of the science center. There's not really a scientific undercurrent to the exhibit, and Gottlieb said there's no political agenda to start talks about ecology or climate change.

But amid the large museum's many enclaves and activities, the exhibit offers a peaceful respite — as soothing as the sounds of the waves themselves.











Winter Garden 2023


» Nos. 1-15



Abstract Jetty 2022


» One thru Twenty



December Sunset 2020


» Nos. 1-20



A Cloud Study, Sunset 2016


» Nos. 1-20



October Waves 2013


» Nos. 1-30



Waves In Black and White 2011


» Nos. 1-30



Summer 2009


» Nos. 1-20
» Nos. 21-40



Winter 2009


» Nos. 1-12



Seascapes 1996 thru 2006


» Horizontals Nos. 1-20
» Verticals Nos. 1-20

Résumé » Bio » Reviews » Sizes

sandragottliebinfo@me.com
212.688.0908


All images copyrighted